Hygge House Therapy Rooms
/ˈh(j)uːɡə,ˈhʊɡə/
Hygge is Danish for comfort, cosiness and conviviality. We rent out beautiful, scandi-inspired therapy rooms for your business, at flexible and reasonable rates.  Our new therapy rooms are open now and ready to hire, suitable for – Psychology, Counselling, Hypnotherapy, Physiotherapy, Osteopathy, Chiropractors, Life Coaches or any other one to one consultation profession. 
Therapy Rooms to rent now!
We are fully open and operating a Covid safe environment.  Contact us for more information or to make an appointment to have a look around, we think you will be impressed!
Whether you are a start up, an established business, whether you need a room for an hour, ad day or for your exclusive use, we can help. 
We'd be more than happy to arrange an informal chat and tour of our rooms at a time to suit, just drop us an email. 
Located in Thurmaston, just on from Costco, we have free on road parking, shops and a cash machine nearby, with good public transport links to city centre and outskirts of Leicester.
You will benefit from  a free promotional listing on this website, along with free wifi and utilities. Hygge House includes a wheelchair accessible toilet room, a cosy waiting room for clients and a well equipped kitchenette.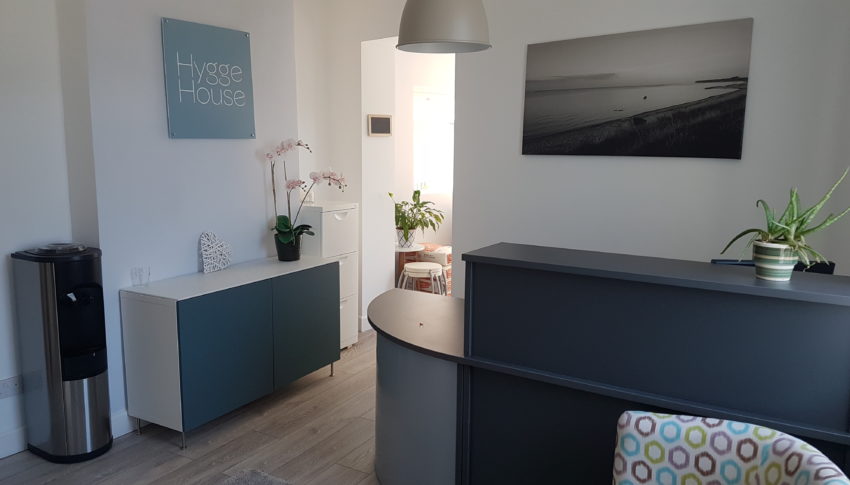 The rooms are the cosy Jasmine room with two sumptuous recliners, Lilac room with treatment couch, arm chairs and desk and Copper and Forest rooms with sofa, chair and desk.
Time Slot
Jasmine Room
Lilac Room
Forest Room
Copper Room

Session

Monrning (8.30am - 1pm) or
Afternoon (1.30pm - 6pm) or
Evening (6.30pm - 9.30pm)

Day

Morning/Afternoon (8.30am - 6.30pm) or
Afternoon/Evening (1.30pm - 9.30pm)

Full Day

(8.30am - 9.30pm)